Sunday School
Join us from 9:30 am to 10:30 am on Sundays for a time of discussion, teaching and learning about the Bible, Christ-like behaviour, current topics, sharing the good news, and much more. Classes for children and adults.
Sunday Service
From 10:45 am to 12:00 pm we meet to intentionally worship God together. During this time we sing songs led by a worship band and a song leader for hymns, read from the Bible, pray, announce upcoming events, give an offering, share joys and concerns and then pray for each other, and our pastor or a guest speaker shares a message.
Potlucks/Fellowship Meals
Join us once a month for a shared lunch right after the Sunday service. It's an opportunity to get caught up with each other and meet new people over plates of yummy food.
Java Junction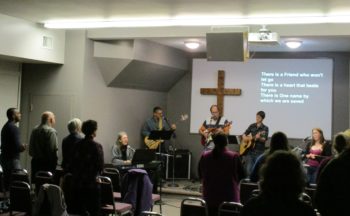 Adults are invited to join us Thursday evenings from 7:30 pm – 9:30 pm for popcorn, games, coffee, and conversation here at the church.
Praise Junction
Join us the third Saturday of every month from 7:00 pm to 8:00 pm for a time of worship led by the band. There is also a brief time of sharing and praying. Please note that Praise Junction does not happen in July, August and December.