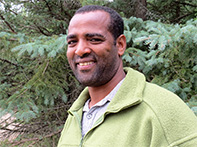 Fanosie Legesse has been pastoring here at Zion Mennonite Fellowship since September 2015. We've enjoyed getting to know him and his family and we continue to learn and grow from each other with the Holy Spirit as our guide. Fanosie leads us with humility and compassion. We know that he loves God wholeheartedly and we see that God's hand is on his life.
Fanosie was born into a farming family in a rural part of Ethiopia, East Africa. His village did not have the privilege of having the conveniences of rural Canada (e.g. schools, roads, electricity, etc.). "I did not start school until I was 14 years of age," he comments, "and I was over 20 years old before I rode in a motorized vehicle."
For this reason, he is a person who cherishes the experiences of the forgotten corner of the world (rural Ethiopia) and of one of the most advanced countries in the world (Canada). "As a Canadian, I am enjoying my 11th winter" he says with a laugh that comes through thick layers of sweaters. "But as a citizen of this planet," he continues, "it is my passion to love every person despite their differences from who I am."
Fanosie is the husband of Dianne and their children are Zach and Lydia.
He is a believer in Christ and sees every believer as an important part of the Church of God, with spiritual gifts to share, to the glory of God! He affirms that he has something to learn from every believer about God, humanity, and creation.
Fanosie has been given the gifts of leadership, teaching/preaching the word of God, and praying for the purpose of making disciples of Christ. "I am called to serve God's people with these gifts," he shares, "and to benefit from the gifts of others, as we encourage each other."
Fanosie's deep care for others and his great sense of humour endear him to those he meets. We are so blessed to have met him, and to continue to meet God together.