In the downtown Elmira core, between Taylor's Bridal Boutique and R.W.Thur Real Estate, you'll find The Junction, home of Zion Mennonite Fellowship.
This congregation was formed in January, 1987 as a sister church to other Mennonite churches in the area. One might ask, why another church in Elmira?  This question was posed 30 years ago when the Northern District Mennonite churches were discussing a new church plant in Elmira – when there were already over a dozen congregations meeting in town!  According to Ray Brubacher (below), pastor of Elmira Mennonite at the time, the vision was for a church that had "a different format, a different type of facility, maybe not a conventional church building, reaching out into the community in new and creative ways, possibly a different style of worship that would appeal to a broader spectrum of people".
A group of about 50 people caught the vision and in January, 1987 began meeting regularly in the Jubilee Hall at the Elmira Branch 469 of the Royal Canadian Legion, enjoying warm hospitality there.  Bob Verdun, editor of The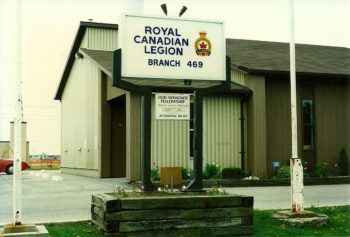 Elmira Independent at the time, had an interesting take on the relationship between a Mennonite church and a Legion Hall.  Read more
We met at the Legion for almost 10 years and had a good relationship with the folks there. Even today we continue a tradition that started in the early years…Christmas carolling for Legion seniors. Many are no longer with us but we still go to one woman's home and have a great time singing with her.
Meeting in the Jubilee Hall worked well for worship, but wasn't the ideal location for Zion's vision of outreach and service, so other options were pursued. When a storefront property became available in the downtown, Bruce Weber, with a delegation from Zion, went to the township council with a proposal for accessing the downtown property, formerly Shopeasy. Under Mayor David Leis, the council granted permission for the group's intended use and a 5-year lease for the property at 47 Arthur St. S was signed on April 1, 1996. Work began immediately on renovations and children, men and women got their hands dirty! One member remarked, "We first had to put up walls in the building – but what we really want to do is tear down walls," as she reflected on Zion's purpose for being downtown.
Our first worship service at The Junction was on June 16, 1996. That same week the doors were open for Play Junction, a free child care service on Friday mornings for preschool children. "We were overwhelmed with the warmth and generosity that the Junction offered us with their Play Junction service," commented Jolana Taylor about this service that was offered for 14 years. "Three of our four children participated and thoroughly enjoyed their Friday morning visits, and it was a much appreciated break for me!"
In September of that year, youth were invited to come to the Junction with friends for activities such as pool, ping pong, cards and foosball. Some also chose to just sit and talk. Youth Junction was open 2 nights/week for 7 years until Woolwich Community Services opened their Youth Centre. Many significant friendships were developed during those years. READ MORE
After 25 years, Zion Mennonite Fellowship had many rich experiences of worship, service, recreation and fun.  To celebrate this milestone a video was created.
Being downtown continues to provide numerous opportunities to be actively involved in the community. People can drop by, relax, chat and use clean washroom facilities during the Maple Syrup Festival, known as the "Resting Place". Our doors are also open at the Elmira Street Dance/Car Show in the summer and during the town's Moonlight Madness when Christmas carols are sung outside. Thursday nights there is a drop in for adults from 7:30-9:30, a time to chat or play games. And of course, weekly worship services are open to all.
PASTORS WHO HAVE SERVED ZION
We've had the privilege of these leaders working with us over the past decades, and are very grateful for the variety of ways they have led, challenged and encouraged us.
Lay leaders, guest speakers and ministers -Jan. 1987 – Sept. 1989
Marian Wiens, interim pastor Sept. 1989 – Feb. 1990
Doug Zehr, pastor, Feb. 1990-1994
Art Byer, interim pastor, 1994-1995
Keith Meyers, pastor, 1996-2004
Lester Kehl, pastor covering Keith's sabbatical
Gary Horst, interim pastor, 2004-2005
Ken and Dawne Driedger, pastors, Sept. 2005 –Dec. 2013
Steve Brnjas, interim pastor, Feb. 2014 –July, 2015
Fanosie Legesse, pastor, Sept, 2015 to the present